The Rusty Nails
(formerly Haggis)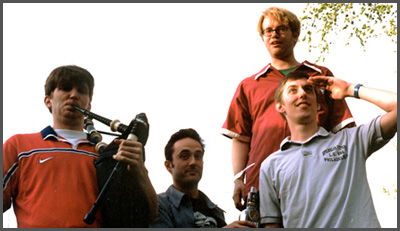 BIO
The Rusty Nails was originally just an idea founded by one Brett Alexander Boye. Early on starting around 1995 or so, he put together some 4-track recordings involving bagpipes with various derivatives of rock music. The first official record that came out was a self-titled album (released 1996) which he recorded all the instruments himself. Brett refers to this as a sort of "demo" type of record which spawned a couple of good tracks but certainly had its rough spots. Nonetheless, the idea was born.
Not too long thereafter, this idea formed into a rock band which was mainly based in Philadelphia, PA. Many local shows in and around Philly as well as some tours small and large ensued. The band "era" lasted from around 1997 to the end of 2002 during which two and a half more albums were released (No Miracles In Ruins in 1999, Aftertax/The Rusty Nails split in 2000 and Vestiges in 2002). Please note that archival footage of the band on tour (and thus the names of all the members and other interesting tidbits) may be posted on the website (or linked from the website) in the future.
Despite the band breaking up, the idea still lingered on and two other albums were created and released: "The New Colony" and more recently "Nonlocality." Yet again all of the instruments were recorded by Brett. Clearly, there was some sort of awakening that influenced these two records as well as other pursuits outside of the albums made. He went on to co-found The Irma Freeman Center For Imagination in Pittsburgh, PA which had its official opening in October, 2009. It was then that Brett also debuted "The Rusty Nail(s)' Bagpipe Picture Show" which is a one-man version of The Rusty Nails.
Whether it takes the form of a "one-person show" or an actual band, the goal, now more than ever, is to continue to explore, experiment and create music for the sake of healing and to help raise the spirits of all humans away from fear and towards whatever it is they love.