Speedwell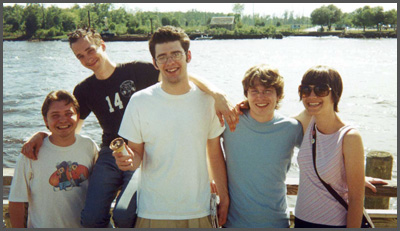 BIO
The story of Speedwell is a long and arduous one. Speedwell began in the fall of 1996 as Meredith Bragg, Troy Farmer, and Jonathan Roth. They played some shows in their college town of Harrisonburg, VA and recorded a seven inch record that was released by Sport. Soon after this, Brian Minter joined the band. They then toured the southeastern U.S. with Engine Down, wrote some great songs and broke up in May of 1998.
Two years later, realizing they still had an appetite for playing music together, they reformed and set upon the task of once again rocking the world, or at least the eastern U.S. The band recorded an EP that was released by Engineer Records, and added another member to the band, Cheryl Huber. This line-up toured the southeastern U.S. with fellow D.C. rockers Metropolitan, wrote some more great songs and split up again in February of 2003, this time for good.
Throughout their sporadic career, Speedwell played shows with such notable bands as the Dismemberment Plan, Jimmy Eat World, The Get Up Kids, Dillinger Escape Plan, Mates of State, Superdrag, Ted Leo, Darkest Hour, Mineral, The Van Pelt, Silver Scooter, Milemarker, and 400 Years. Their songs appeared on various compilations released by Deep Elm, Ignition, and Coolidge/Underadar Records. But they never released an LP…until now.
Coolidge Records approached Speedwell a few years ago about doing a discography release for the band. They jumped at the chance to collect all of their material (some released and some not), do a proper re-mastering of everything, and give it a release to finally put closure on the band. The result, "Start to Finish", was released on July 16, 2013.
After Speedwell, Meredith Bragg went on to start a solo career under his own name, with Brian and Jonathan often supporting him in his backing band.
COOLIDGE Releases