Scribbler
(formerly POD)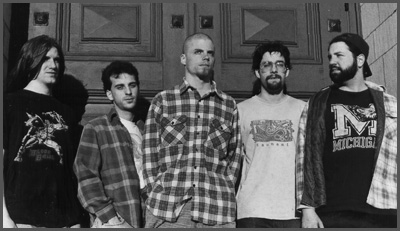 BIO
Submitted for your approval: Scribbler, a five piece Philly band forging ahead, with fast and loud angst driven math rock, through a world seemingly ruled by closed minds. Scribbler has played all of the Philadelphia clubs, a tour of the east coast with stops at The Trocadero and CBGB's. The name changed from pod to Scribbler in 1995. The band has opened for Jesus Lizard, Dead Milkmen, Clutch, Shelter, Corrosion of Conformity, and Zen Guerilla. Recorded material has been released on Compulsive records, Nitrous records, and Coolidge records.
A Lesson in Philly:
"Years of Obsession", "Heroes", "Rock and Roll", were the first attempts at recording the band. "All Spots to Black" was from the band voodoo smiles but the lyrics had been changed. Later songs, especially "8 Ball" and "Hanged Man", became more ambitious. The hard edge "Hot Seed" was the only song to be re-recorded for the first studio album.
The Newportville demo session was recorded in a house in the woods and all of the songs ended up being recorded again at sonic studios to become the Ballgag album. The west Philly sessions were recorded at the practice space on Walton Street to prepare for Scribbler 3. All of the songs were recorded after the band finished a tour. The third scribbler album included the song "Fondue" which was written by Derelict Hotel and played in tribute to Marc Nolan.
Scribbler 4 had a new lineup where Pat Baker took over the lead vocals and versatile Steve Dangle moved drums. The four song session had newly written songs and some different takes on old favorites.
Scribbler:
Brian Baker - Vocals
Pat Baker - Guitar
Mark Nolan - Bass
Joe Flynn - Guitar
Brian Duffy - Drums
Steve Dangle - Bass (Ballgag, Scribbler 3), Drums (Scribbler 4)
Bobby Best - Bass, Vocals (Scribbler 4)